First Responders Planning and Preparedness:
A Guide to Emergency Response Situations
Emergency medical services (EMS) provide the first medical care and triage on site, often arriving before law enforcement has had time to secure the scene. As such, EMS can face a variety of unsecured disaster scenarios.
This eBook explores a variety of scenarios that first responders must plan and prepare for, including: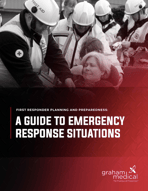 everyday emergencies
triage for mass casualty incidents
on-site shooters
terrorism
natural disasters
fires and explosions
You cannot prevent emergencies, accidents, and disasters, but you can create emergency preparedness plans.
To learn more, access this eBook by completing the form.