Selecting the Right Medical Blanket:
A Guide for EMS Patient Care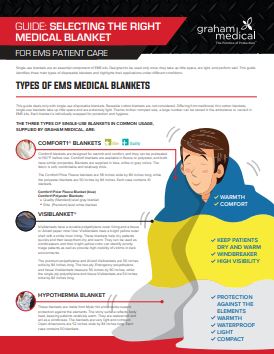 Medical blankets may be one of the most underappreciated items in the EMS kit. Not only do they provide warmth, but they also protect patients and responders against injury. Designed for different uses and available in a variety of materials, it may be difficult to decide which EMS blanket to use in which circumstance.
This guide identifies three main types of disposable blankets and highlights their applications under different conditions.
Providing patient comfort is essential. Get the most out of your medical blankets.
To learn more, access this guide by completing the form.