This comment from an article in Fire Apparatus and Emergency Equipment succinctly addresses the transportation issue, "When you think about it, whether we're talking about firefighting, technical rescues, motor vehicle accidents, or emergency medical services (EMS), a lot of our job involves moving a person from point A to point B-from a hazardous area to an area of safety."
This is exactly why emergency care providers need to have protocols available to determine the best transportation options for victims in varying circumstances.
Download your complete copy of this eBook by filling out the form or continue reading by scrolling down.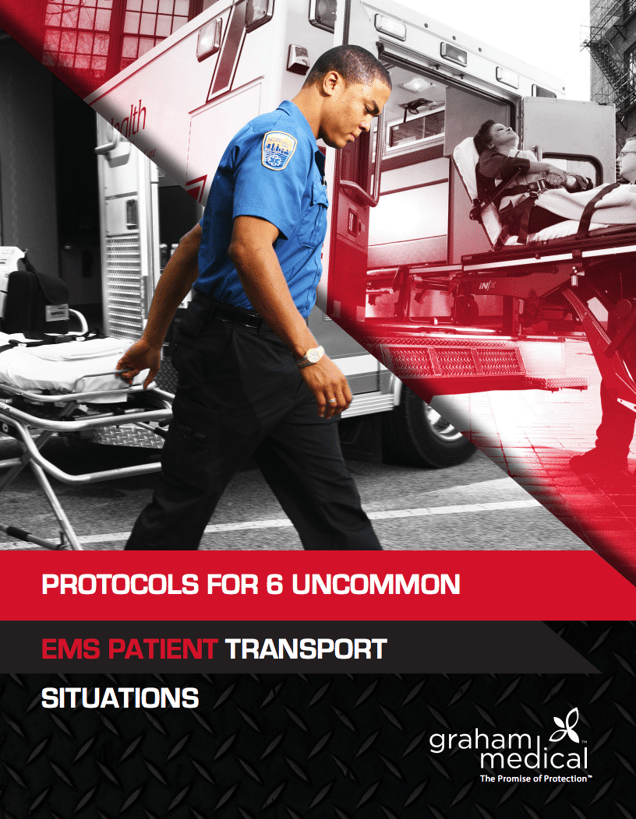 Download Your Copy Today!
You can browse or jump to different guide sections using the table of contents.
TABLE OF CONTENTS
Introduction
This 2017 EMS Protocols by the Indianapolis EMS provides a great overview of protocols for various emergency situations and injuries. These protocols address:
Initial Trauma Care
Major Trauma Criteria
Trauma Alert Criteria
Out-of-Hospital Spinal Clearing/Immobilization
Spinal Immobilization for the Pregnant Trauma Patient
Eye Injuries
Chest Injuries
Abdominal Injuries
Musculoskeletal Injuries
Burns, Rule of Nines, Burn Severity
Taser Injuries
Traumatic Brain Injuries
Traumatic Cardiac Arrest
The Transport Protocols of this Academic Emergency Medicine study showed that nearly 79% of calls required direct transportation to an ED by ambulance. The transport protocol for conditions calling for immediate transport included the following cardinal conditions and four categories of musculoskeletal injuries.
Cardinal Conditions:
Unconsciousness or changed mental status

Respiratory distress

Sustained abnormal vital signs

Systolic blood pressure less than 90 mm Hg

Pulse less than 60 or more than 110 beats/min

Respiratory rate less than 12 or more than 24 breaths/min

Comprised airway

Uncontrolled bleeding

Suspected abuse of any type

Suspected cervical spinal injury

Infants less than 3 months of age
Category One:
All amputations

Femur fracture

Multiple trauma

Neurovascular compromise

Severe pain

All open fractures

Hip fracture/dislocation
Category Two:
Avulsion of digit tips

Isolated extremity injury
Category Three:
Isolated injury with no loss of function, point tenderness, or swelling

Need for tetanus prophylaxis
Understanding these indicators for transportation can better prepare EMS providers with onsite treatments and equipment that maximize patient comfort and care while emphasizing EMS safety. It is important to be able to evaluate the condition of the victim in order to determine the most appropriate transportation means and methods.
A few specific injury types that could require additional transportation protocols include the following:
1. Musculoskeletal Injuries
Broken bones, dislocations, and severe strains are common reasons for patient transport. In addition to supporting a patient's overall health, these injuries require support and stabilization. EMS providers will often use splints, backboards and supportive collars to keep injuries secure and lessen the chance of further damage.
Rigid backboards and cervical collars have long been recommended for transporting patients with any possibility of a neck or spinal injury. However, as this blog indicates, recent studies have shown there is good reason to believe that these items may not only be ineffective, but may actually be detrimental to the patient. A cocooning type of device as provided by a flexible stretcher may actually provide better support and less trauma for the patient.
2. Open Wounds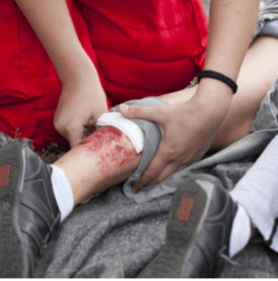 The initial tasks of wound care are to prevent infection and control the bleeding. This Wound Care-General guideline from JointEMSprotocols.com lists the following as procedures to be taken:
1. Use personal protective equipment, including gloves, gown, and mask as indicated.
2. If active bleeding, elevate the affected area if possible and hold direct pressure. Do not rely on compression bandage to control bleeding. Direct pressure is much more effective.
3. Once bleeding is controlled, irrigate contaminated wounds with saline as appropriate (this may have to be avoided if bleeding was difficult to control). Consider analgesia per protocol prior to irrigation.
4. Cover wounds with sterile gauze/dressings. Check distal pulses, sensation, and motor function to ensure the bandage is not too tight.
5. Remove all jewelry on injured extremity distal to site.
6. Monitor wounds and/or dressings throughout transport for bleeding.
7. Document the wound and assessment and care in the patient care report (PCR).
The use of single-use, disposable bedding items may be helpful as well.
3. Patients with Unstable Vital Signs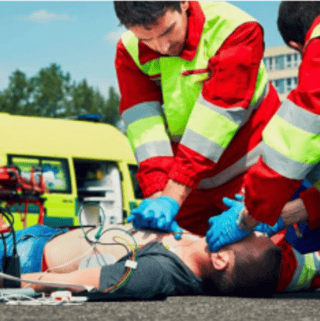 Patients with unstable vital signs require quick decisions and attentive supportive care. Monitoring patients with both personal observations and medical technology can help quickly identify when a patient is getting worse.
The previously referenced Transport Protocols lists the following as Critical Events that require transport by ambulance:
Need for CPR

Need for intubation or assisted ventilation

Extensive bleeding

Cardioversion or pacing

Oxygen saturation below 90% or need for oxygen on transport

Systolic blood pressure below 90 mmHg

Dysrhythmia needing treatment enroute

1,000 or more mL of fluid infused en route

Traction splinting for femur fracture

Needle thoracotomy or cricothyrotomy

GCS #12

Spinal precautions

Need for medication during transport
Another factor that can come into play during transportation is shock.
Fast detection by monitoring vital signs is imperative to catch signs of Stage I and Stage II shock and provide swift treatment. Depending on the symptom, medical interventions and medications can help. This EMS1.com article states that, "keeping the patient warm, with legs raised and head down to improve blood flow to the brain", are the first things to be done.
4. Non-Standard Sized Patients
Not all patients are average sized adults. Some adults may be larger than average, smaller than usual, or be disabled in a way that makes standard equipment difficult. Youths and infants will be far smaller than your standard items, requiring additional equipment and support. Make sure your vehicle is stocked with supplies to treat these tinier patients, including intubation and IV access for small infants. Use existing items like pillows and polyester blankets for stabilization, but be aware of smothering potential and choose lighter weight material for a cover.
In addition to small patients, you may also encounter some larger patients. A traditional gurney will not work for patients that are extremely tall or those that are morbidly obese. These devices will be uncomfortable and can promote further injury if they do not support a patient correctly. Instead, you can use a flexible gurney with multiple handholds. Choose a device rated for heavy lifting (up to 1,000 pounds) that also provides multiple handholds so the lifting can be done by a full team of individuals, and not risk EMS injury. Administrators should explain treatment risks of non-standard patients as well as provide training on proper lifting techniques.
5. Helicopter Medical Evacuation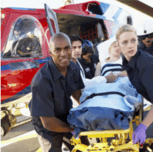 A patient requiring transportation will typically be taken to the hospital in an ambulance. Extremely critical patients, however, may warrant the use of emergency helicopter transportation. Emergency preparedness protocols that would indicate this need are based on time, distance, and services available.
The CDC emphasizes the use of helicopter medical evacuation services (HMES) when a patient meets transportation protocols, and a significant amount of time would be saved when compared to traditional ground transport. Common indicators include remote or distant locations, severe traffic barriers, and a lack of available treatment options on site. If there is not a significant difference between ground and air transportation, ground travel is usually preferred to save the patients this significant cost.
6. Patients Who Refuse Transportation
While most patients understand the need for medical care in a hospital setting, you will occasionally find patients who refuse transport. A Utah study showed that 5.1% of patients refused transportation against direct medical advice from EMS.
Whether a patient's request can be honored are based on two primary factors:
The capacity to consent

The age of the patient
Minors are not allowed to refuse medical care. Patients who are unconscious, or show altered consciousness and judgment may also be transported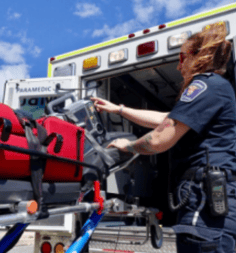 without consent. Most other patients have the right to refuse. Many of these refusals are not because patients do not want care, but because they are intimidated by the cost.
What can administrators include in their emergency preparedness plan to help these patients? How can first responders support and treat them in the best manner that allows them to get to the emergency department on their own? Explain the injury to your patient and the standard treatment protocol. Provide them with a list of symptoms that indicate the need for immediate intervention (not waiting until doctor's hours.) Provide the patient with additional supplies -- a blanket if they are cold, extra bandages for a wound, ice packs. Offer as much supportive care as the patient will allow.
In addition to consulting your legal department and administrative policy, the patient will need to sign the refusal of treatment paperwork. Clearly, explain the local law's requirements on the refusal of service during administrative training.
Graham Medical is pleased to provide single-use EMS supplies including treatment kits (drapes and protective surfaces), sheets, pillows, blankets, and portable carriers to aid in treating victims subject to these and other injuries and to help protect the responders as well.
Some of the More Popular Emergency Products Include:
We can also help administrators select personal protective equipment for your staff. When choosing which supplies to stock for your EMS agency, the emergency preparedness experts at Graham can help you choose the right products to fit your patient needs. Get expert advice from Graham Medical online.